Hotel - 40 guest rooms - conference rooms - 2 restaurants - café - indoor pool
Located only 30 minutes by car from the Frankfurt Rhine-Main International Airport, in close vicinity to Wiesbaden and nestled in the foothills of the Taunus Mountains, Hotel Kurhaus Ochs / Schmitten is a sanctuary of relaxation and productivity. Guests will be delighted with our modern facilities and impeccable service. Equipped with 40 guest rooms, conference rooms, 2 restaurants with sophisticated gastronomic experience, a smaller type of café, hotel bar, indoor pool as well as sports-facilities, wellness/SPA and leisure activities, our hotel presents the perfect destination for your business and weekend trips. We offer free WiFi access throughout the entire hotel.
What to expect: A modern, up-to-date cuisine, a very attractive seminar, conference and banquet area, embedded into a historic atmosphere. Our small team consisting of passionate experts is looking forward to giving you their utmost attention in our recreational area "Großer Feldberg" in the Nature Park Hochtaunus.
---
Holiday in the Taunus Mountains
Discover the beautiful Taunus Mountains and enjoy the first warm sunny days with a few days of vacation. Our hotel is located in the climatic health resort Schmitten, directly at the foot of the Großer Feldberg. Here you can spend your holiday during the day with hiking, horseback riding, golf and culture and in the evening you can enjoy good food in one of our restaurants.
Have a look at our arrangements, for example Getaway throughout all 4 seasons
---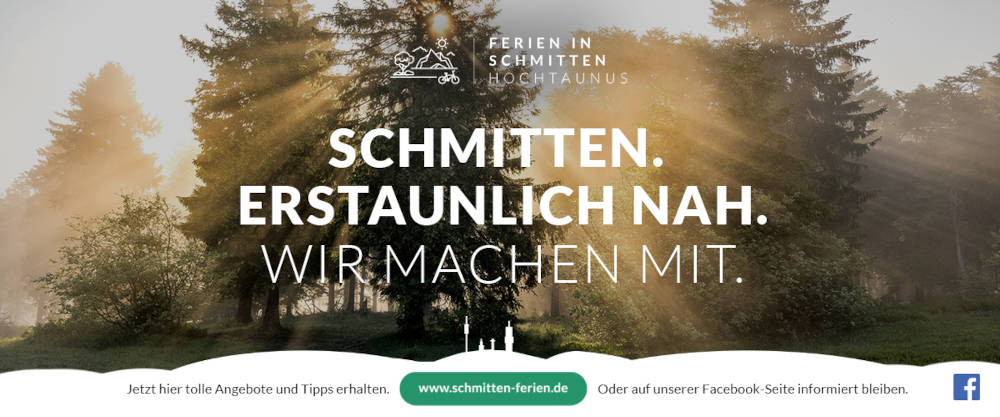 ---
Hotel brochure ready for download